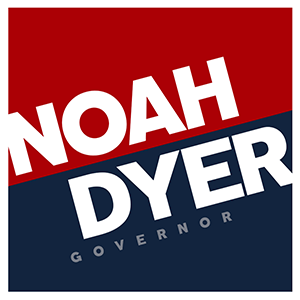 It is with a little bit of sadness that I'm announcing that I will be dropping the "Noé" from my ballot name and campaign brand.
When I declared, I was excited to show solidarity with the Hispanic community by including my Spanish name. This is the name by which hundreds of hundreds of native Spanish speaking Mexicans, Costa Ricans, and other Latin Americans knew me as I grew up, served a mission in Costa Rica, and worked as a bilingual sales rep and teacher in my 20s.
However, while this name works well in close relationships, it has not worked so well on the campaign trail. Much to my surprise, many non-Spanish speakers don't recognize it as being "Noah" in Spanish. Many people wonder if Noé is my given name. People often pronounce it like "NO" or "NO-ee" (if you didn't already know, it's pronounced "no-EH", much like "no WAY").
Even more surprising, the name has also been confusing to my new Latin American audience, though certainly not for the same reasons. Hispanics who speak English frequently just call me Noah. Others get into a long discussion about which I prefer. (For the record, I prefer to be called Noah when conversing with English speakers, and Noé when conversing with Spanish speakers.) Others sometimes initially disbelieve that the name is Spanish, given my appearance, and think that the name must be Russian or Hebrew (which I guess it is, ultimately). Only when I speak Spanish do things become clear.
Point is, it's not effectively communicating my affinity for the Hispanic community, and it is causing everyone confusion, so we're dropping it.
Hopefully it's obvious, but the initial decision to include my Spanish name on the ballot and in my branding was not a marketing gimmick or mere pandering to a minority constituency. I care deeply about our Hispanic community, and I wanted a strong way to signal that. Dropping the nickname in no way reflects a change in my commitment to our Hispanic community and to my stances on equality, immigration reform, and other issues relevant to Hispanic voters.
Look for an updated logo soon!
https://noahdyer.com/campaign/wp-content/uploads/2017/02/ndyer-logo-menu.png
300
300
Noah
https://noahdyer.com/campaign/wp-content/uploads/2017/02/ndyer-logo-menu.png
Noah
2017-10-26 15:54:39
2017-10-26 15:54:39
Noé Is Going Away